Hello all,  my name is Rebecca, the face behind Bride as a Button.  I am often asked when and how the button love began,  so I thought I would pop down a snippet about myself and the beginnings of Bride as a Button.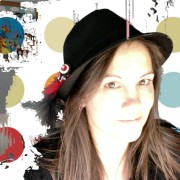 I know it sounds cliched, but when I think about it, my love for buttons started as a young child, when I would play for hours with my grandma's button box.   She had a set of traditional balance scales and I would weigh them out to imaginary shop customers.   (Oh those were the good old ancient days (according to my children) long, long ago, before  the invent of X-boxes and Ipod's).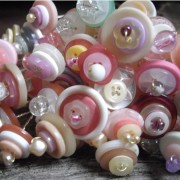 I remember being fascinated by the shiny buttons, which were from my granddad's old WW2 uniform.  I loved the sense of history behind them and all the different colours, shapes and styles.    I was also completely fascinated with my mother's jewellery box and charm bracelet.  Not only was it brimming with sparkles and bling, but was packed full of charms that all had a sentimental story to tell.
So I guess looking back the button love has always been embedded in my psyche.
Originally from Reading, I studied art and art history at A level, graduated from Derby Uni with a BA Hons in Visual Cultures and then fell into a career in project Management, for a medical communications company based in Oxford.   I met my husband, started a family and moved to rural northamptonshire in 2000.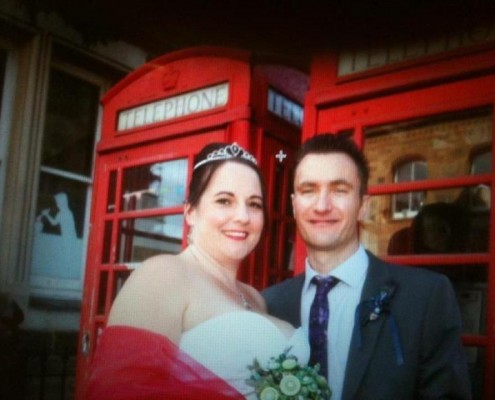 Knowing my love for arts & crafts, my friend and fellow creative, Anna (Above & below) asked me to help make the table decorations for her wedding in June 2012, which were all made from buttons and beads.  It was great to see everyones reaction to them at the wedding.  In fact most of the tableware made it's way into pockets and handbags, as memento's.  They really created a buzz, with guests and friends asking if they could have a bunch made!  I became hooked on buttoning thereafter and decided to set up my own business making button bouquets.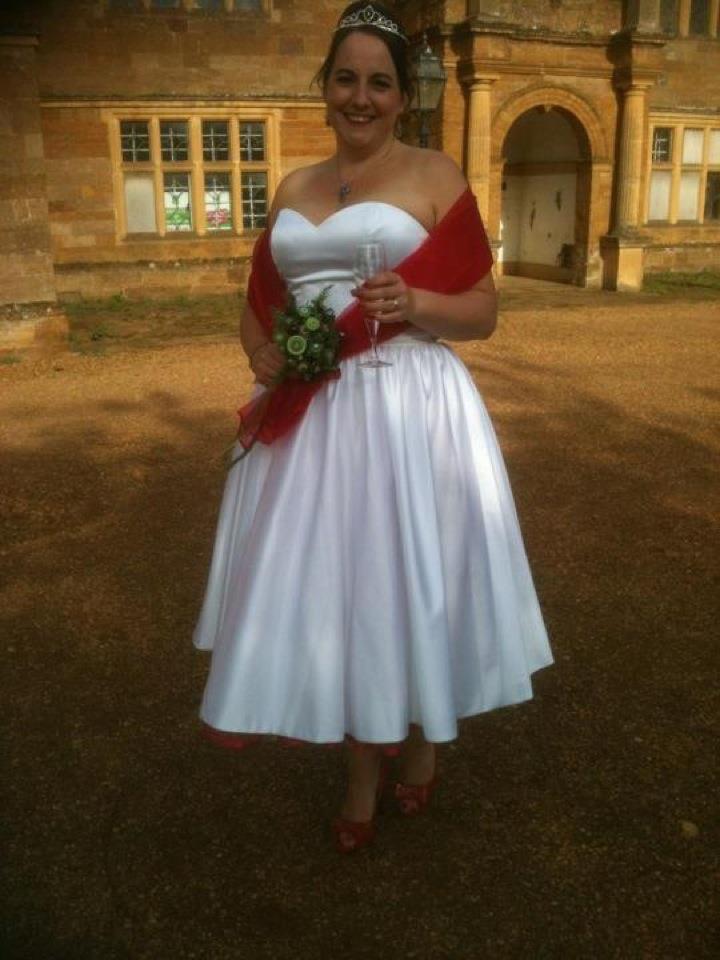 So I have never looked back!  All thanks to Anna!  I love returning to my creative roots and being part of so many big days!   I get to work with fantastic suppliers and brides from all over the country.  Every day I receive such amazing ideas from my brides to be, from Batman to vintage inspired bouquets.I am a massive fan of Audrey Hepburn and all things that are handmade, vintage and retro.  I'm passionate about up-cycling, giving jewellery and buttons a new creative lease of life.
I thoroughly love my job and feel lucky that I have now discovered what it is I wanted to do when I grew up!  Mrs Anna Malin – you are the best! xx